Well actually, not galore.. because there's only two, but you get the idea!  When two of my friends told me they were pregnant, after the initial shock wore away, I got excited to make them baby quilts.  I was hoping that at least one of them would have a girl, so I could make a cute girls quilt, but I had no such luck for they were both having boys.  That didn't stop me from making two cute quilts though!
Here's the first one:
My little sister is holding it up here.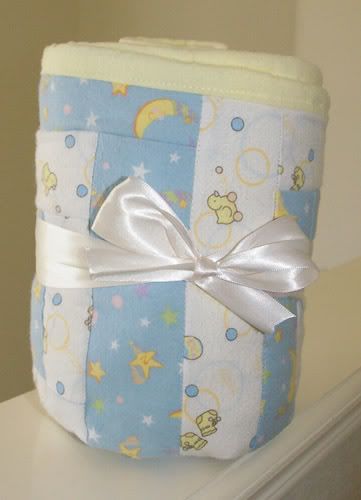 All ready to give away!
Here's the second one:
The colors are a little off here.
Close up shot of it folded up.
All ready to go!  I think this one shows the true colors the best.
As you can see, they're not perfect, but they're good enough for me!  These were the first quilts I've ever done.. and although it's kind of frustrating and time consuming (even when I did these super easy ones!) I think I'm hooked.  I want to make a quilt for my bed but I'm kind of scared I'll never finish it, haha.